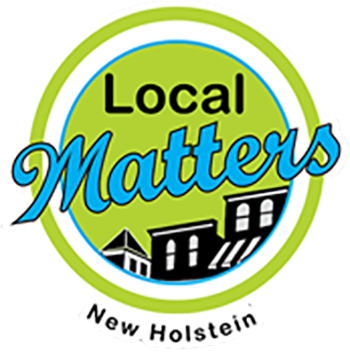 PROMOTIONS
"Local Matters " -

The Local Matters campaign was implemented by the New Holstein Area Chamber of Commerce to increase awareness of how our purchasing choices benefit our communities, our personal life and our overall economic standing.

There are many well documented benefits to thinking locally first when determining where and how to spend our hard earned dollars on products and services.  And the New Holstein Area Chamber of Commerce realizes that often, our everyday decisions on how we spend those dollars are based on bottom line price, rather than what may be the better long term value for our families and our community. So, why Local Matters?

Local Matters is about reminding ourselves that our locally spent dollars remain in the community, we are essentially giving money back to the community.  Local Matters is about generating local support for our locally owned businesses by encouraging consumers to shop here first.

Statistics show that nearly 60% of every dollar spent at a locally owned business will remain in the community, compared with less than 20% spent at a big box store.

Businesses are used to contribute to the tax base, which provides infrastructure services such as utilities and police and amenities like parks and community buildings.  All businesses pay taxes. So what is the difference where I spend my money?

New Holstein has many beautiful parks, community buildings and a great aquatic center. Sometimes we take for granted that those things just "are there" without truly remembering how those things came into being. Local dollars made it happen.
Locally owned businesses are usually the first to be asked and the first to step up to support service organizations and their philanthropic efforts and other community benefits such as youth sports teams.

Additionally, locally owned businesses tend to support other locally owned businesses by buying products or services from them. Locally owned businesses know that local support is key to their own business' strength.

Local Matters' core is about our local businesses whose survival is dependent on the community, but there is so much more to it.  Local business owner's dollars along with our own dollars, keep our community alive, provide good schools and opportunities for our families, safe streets and reliable resources that make our communities our home.

Local Matters is about the whole of our community and our responsibility to keep our community strong and distinct.  In an increasingly homogenized world, we recognize that communities need to preserve their one-of-kind businesses and distinctive character. Those who call New Holstein home, either stay here or moved here because of the distinctive character of this city. Those who visit New Holstein for its great restaurants, pubs, parks, trails,  retail options, museum, do so because it is unique to them. If we do not choose to support our community with our dollars, we run the very real risk of losing that which made us choose it in the first place. That is why Local Matters.

The New Holstein Area Chamber of Commerce will continue to reinforce these points through our Local Matters promotional campaign. We encourage our members and local citizens to participate and lead by example.

"Welcome Baskets" -
The New Holstein Chamber distributes Welcome Baskets to new home owners who move to New Holstein.